POINTR enhanced for China – borderless collaboration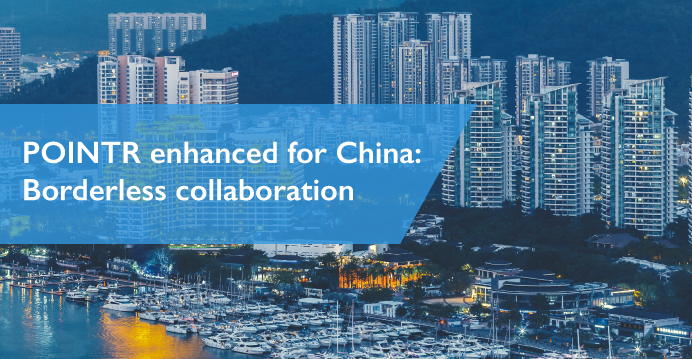 POINTR Remote collaboration solution has been improved for use in China.
China is a rapidly growing Industry 4.0 market, for both domestic companies and multinationals with global operations.
"Many of the Western companies have branches and operations in China. It is a growth market for our customers and is a strategic sector of their business. We want to support that growth so that it can be done in a sustainable way", states DCL CEO Dr. Boris Krassi.
Having a  scalable collaboration solution working reliably and securely, both in China and across borders, is a rare commodity. "It is one of very few tools that works both in China and cross border,  enabling you to efficiently connect  –  through world wide web –  your European and Chinese operations, as well as domestic operations within the country itself", Dr. Krassi explains the situation in the market.
POINTR has overcome the major development challenges of enabling a collaboration tool for use in China: Easy availability for download, reliable within borders and cross-border, and localised UI and tutorials for effortless use.
The solution was whitelisted by the Chinese authorities already 2016. POINTR has been used within China and cross border ever since. The purpose of the tool is specifically business to business use.  Technical whitelisting was simplified because of the POINTR telecommunication protocol, which allows use of the tool with all its features. In addition, the SMS for registration is explicitly authorised.
Access to the application download, via the world wide web, can sometimes be challenging when working in China. POINTR has a special download page for China, to ensure the solution is reliably available if there is no access to major international app store distribution channels. The vital importance of this access is acknowledged as a major priority by the DCL technical team, who are working on securing future availability for POINTR in these channels.
To enhance collaboration for Chinese language users, the POINTR user interface is now available in Chinese and with use of Chinese characters. The Chinese characters can be used in text annotations. The Chinese UI can be enabled from 'Settings', anywhere in the world. This makes POINTR easier to deploy for China operations and provides an improved service experience for Chinese language customers.
Check all the newest POINTR features