16.06.2020
POINTR Performance Optimised for North America
Delta Cygni Labs has announced opening North America infrastructure for POINTR. With this launch POINTR performance is optimised across 4 geographical regions around the world: Europe, North America, South America and Asia.
New Region Benefits the Customers
Starting today, industrial customers can run their field services, other business operations and serve their customers anywhere on earth with POINTR more efficiently and with improved technical performance. Remote collaboration powered by augmented reality has been heavily rolled out around the world this spring. Therefore the performance improvement update for the North America region is very timely for needing high equipment uptime and no wasted time on travelling.
Industries benefitting from augmented reality powered remote collaboration solutions are all those operators that have high cost equipment and processes that can not be interrupted. Additionally volume products, where the site visits are too expensive, is a domain utilising remote assistance.
"The new global infrastructure will boost POINTR performance for users in North America and Canada. Our tests show that deploying the infrastructure in North Virginia by utilising Amazon AWS improves the call experience throughout the continent", explains Delta Cygni Labs CEO Boris Krassi.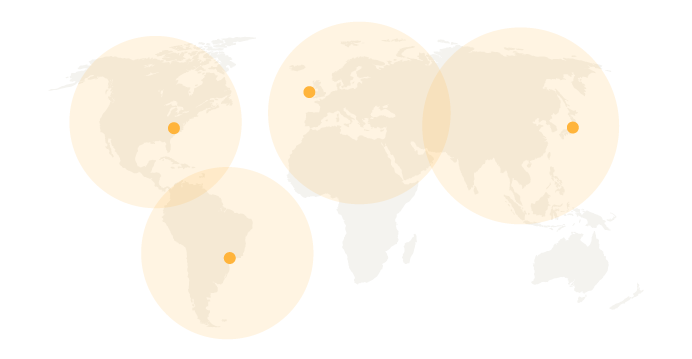 POINTR Cases and Customers in North America
POINTR customers around the world broadly cover different industrial sectors. The European enterprises with global business have expanded POINTR use to their North American functions to ensure business continuity and highest quality of customer service. The long-time POINTR customer VALMET has implemented their POINTR support process throughout their Performance Centres world wide. It allows the Performance Centres to offer instant support and troubleshooting to Valmet customers on all regions.
Other POINTR customers that have POINTR deployed to their business around the world are e.g. Wärtsilä working mainly in the maritime sector and Schneider Electric in the field of energy and manufacturing.
"Extending infrastructure to Sao Paulo earlier this year along with our Tokyo operations optimised call experience also for the growing number of South-American and Asian users. Now, when the industries in North America are being stranded by COVID-19, they have started to rapidly adopt remote collaboration solution from us", explains Delta Cygni Labs CTO Sauli Kiviranta.
New POINTR Infrastructure brings Industrial Augmented Reality Available for North America
Augmented reality glasses are being seen as good addition to deploying augmented reality through standard devices, all platforms will gain the benefits of this new region. POINTR is utilising security standards used by financial institutions and as such is the best solution considering cyber security, regardless of the type of devices that are used for deployment.
In POINTR all data transmission is secured and encrypted. All of the various data transmissions needed for communication, such as handshakes, control data and live video and audio streaming data is compliant to same security standards financial institutions like banks use for their online services. The same data security and encryption standard applies regardless of the user's location.
"The biggest improvements will be in the latency and responsiveness and the time it take for the POINTR live stream to synchronise between participants decreases. The latency will reduce and frame rate will rise, which improves the in-call experience, directly translating into first time fix rate and remote fix rate KPIs", describes Delta Cygni Labs COO Ilmo Lounasmaa.